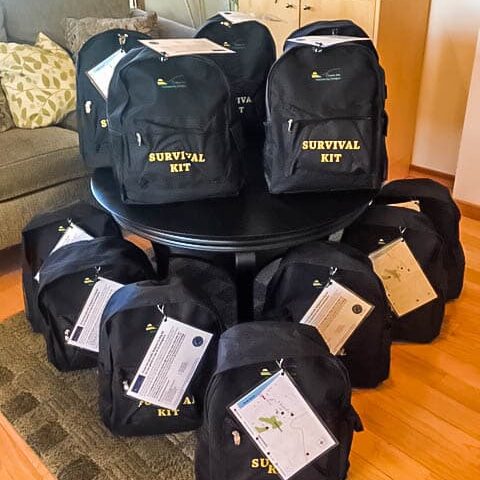 Emergency Preparedness
We Prepare Because We Care
The Oregon Coast sits along a major fault line called the Cascadia Subduction Zone where two tectonic plates far under the sparkling blue Pacific Ocean are slowly shifting. Experts say it is not a matter of if but when that movement will cause a major geologic rupture, followed by a massive earthquake and tsunami along the west coast of the U.S. Though we cannot hear, see, or even feel this shifting ourselves, residents of coastal cities like ours go about our daily lives with this fact in the back of our minds. Children practice tsunami drills in elementary school, families practice camping in their backyards in case they have to camp to survive, local volunteers plan events and trainings to prepare community members for the inevitable. Small blue evacuation signs and strips of paint remind visitors and locals alike that we live in a beautiful, yet constantly shifting landscape.
As guests of the Ocean Inn, it is our job to provide you with the same information and support, that local families and businesses provide one another. We want you to enjoy your stay in Manzanita, to feel comfortable putting your toes in the sand or basking in the coastal sun, without worrying about the possibilities. For your safety and peace of mind, we have equipped each of our suites with a Go-Bag for use in case of an earthquake or tsunami emergency. Each of our bags, produced with the help of local business Tonquin Trading and with the support of the Emergency Volunteer Corp of Nehalem Bay, are equipped with essential survival materials and a laminated evacuation route card. We are proud to be a part of one of the most prepared communities on the Oregon Coast and the first to incorporate kits into our rooms. We hope that our Go-Bags will help you enjoy your stay with us, knowing that we care and that you are prepared.
The "Go Bags" include first aid kits, water, food, blankets, ponchos, hand warmers and light sticks. One hangs in the closet of each of our hotel rooms. They have laminated instructions on evacuation procedures.
---
News Articles